December 14th, 2008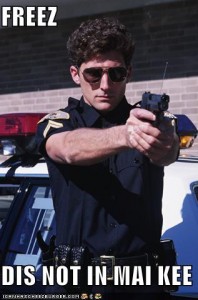 (it'll make sense…..unfortunately)
It's part of our nature as human beings to find patterns and relationships in everything we see, for sale and this can manifest in imagining what would happen if two normally disparate things combined: like a car that can fly or your high school English teacher having kids with the math teacher (not that one, meningitis the other one….yup). Why, order just the other day I had a hamburger with peanut butter, fried bananas, and bacon on it, proving that cuisine still owes much to this principle. Without it Family Guy would be a 3-minute weekly short about dog grooming and the world would never have experienced the glory of the beloved "That's What She Said" gag.
These conflations are not always pleasing or amusing – think of pickles and ice cream or all those crass jokes about dead babies and microwave ovens (I mean, really, microwaves have been around long enough that I think we can stop slandering them so….), but I never imagined that such an awkward and vomit-inducing combination as what I found just before Thanksgiving existed not only in people's minds, but on television for all to see.
I submit into evidence this short clip. At first glance it's not really a big deal….I mean, sure, the song is weird, the whole thing reeks of the early 90′s, and I'm not sure what they mean by network TV "getting it right" but stick with it through the end and then pause to think about it.
Yes, this is more than just some random clip that's funny because it's out of context. No, no, no, my friends, this is but the trailer for an extremely short-lived TV show called "Cop Rock," the unholy union of the cop drama and the rock musical.
You read it right. This is NYPD Blue meets Jesus Christ Superstar. Here is possibly my favorite clip, in which the idea is taken to its logical extreme: a gospel choir jury.
I'm still not entirely certain how tongue-in-cheek it all was, but considering that in the last episode the not only bid the audience farewell by breaking the fourth wall, but they dance a jig on the rubble and an actual fat lady sings….it's amazing.
And may I point out that the connection to NYPD Blue is apt-er than you might thought: they were both created by Steven Bochco (hence my geniusly witty post title), who was also responsible for LA Law and Hill Street Blues if I'm not mistaken…..
To close, here are my other favorites: Don't mess with my pursuit of happiness, Baby merchant, and Let's be careful out there.
Oh, and here's that fat lady, btw:

test Filed under
Uncategorized
|
Comment (1)