January 10th, 2009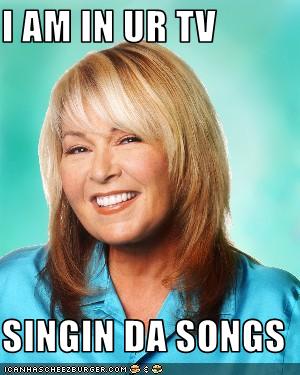 (not the best lolcat ever, infection but I'm a bit rusty. Welcome back by the way, help and happy new year!)
Oh, Netflix. Have I told you lately that I love you? Between your more traditional DVD-rental service and the ability to watch various things on your website, you (with a little help from Hulu) have replaced my need for TV. I mean, all twelve seasons of Murder, She Wrote (although sadly no The Law & Harry McGraw…)? Say no more!
Most of what's available to watch instantly is fairly obscure….a LOT of B-movies and TV shows I vaguely remember staying away from (although I wish they had Herman's Head – it gets a bad rap but I liked it when I was six….) but not until The Enabler's discovery of the children's section of the site's offerings did I actually have cause to fear.
Because who remembers Roseanne's children's classic "Rockin' With Roseanne: Calling All Kids?" Netflix does, and it has the entire thing available instantly for your viewing displeasure. Oh, and lest you chalk this up to a flight of fancy forced upon her early in her career, I should mention that this happened THREE YEARS AGO, well after her stand-up career, her eponymous sitcom, and this notorious and apropos incident – which became quite the story….she even joked about it indirectly soon afterward on said sitcom (2:28). You would think she would never try and associate her name with singing again, but there you go. (also, what six-year-old today would have any idea who she is? I guess that's the point, but it must be scary for parents to hear themselves saying "mommy's busy now…..want to go watch your Roseanne video?" ughhh…..)
Anyway, I wanted to make it fetch, but I found the best part was actually the little preview screenshots that Netflix shows you as you scroll through the movie (since there's no sound involved, and some of those Roseanne faces are SCARY) so I chose a little walk through rather than a single clip. And because we thought it might be a good idea, I expanded my use of my screen grabbing tool (which I've used previously to get these two clips) to include the audio feed of our actual reactions to what we are all watching – yes, you'll hear our lovely clarion tones ring out, which depending on how well you know us might make you nostalgic or just terrified (we are two different people, trust me). It was fun….we'll have to do it again sometime!!
So enjoy! Or rather, be VERY afraid!
(next time we'll engineer the audio better so we're not inaudible when the real sound is on)
UPDATE: In case you care to watch bits without our commentary, here are four clips from what I think is Roseanne's actual youtube channel. Of these, Cowboy Sweetheart is probably the best.
test Filed under
Uncategorized
|
Comments (46)