November 18th, 2008
Legions of Fetch, buy we have a mystery on our hands. And no, diagnosis I'm not referring to one of the mysteries in the many, many, MANY episodes of Murder, She Wrote to which I've been treating myself lately: this mystery does not involve a murder in which one of my friends/neighbors/nieces/nephews/sympathizers has been implicated.
I got a spike of traffic from Deutschland recently, one area in particular called Kaiserslautern….have I forgotten that someone I know recently begun life anew there and did they perhaps decide to visit my site over and over again to get a little bit of that down-home American faggy charm? Was it people looking for Josh Groban? (pleeease don't tell me it was him) Or am I Germany's new favorite source for all things fetch?
(Ich weiss nicht, wie man "fetch" auf Deutsch sagt. Vielleicht weil "fetch" ist eine verkürzte Form von "fetching," "bezaub" oder "fessel" passen könnten?)
OK, I'll stop trying to dust off my rusty German. I've never had the pleasure of going to Germany, and I'm still not sure if my semester in Vienna improved or worsened my German overall…..which reminds me – before said sojourn my aunt bought me this t-shirt: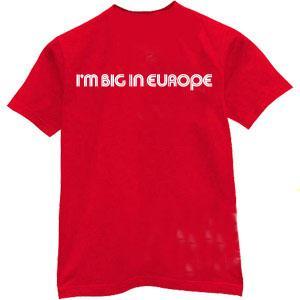 thinking, I'm sure, that it was very funny indeed. I never wore it there, not only because even I couldn't bring myself to appreciate it ironically, but because she got it in size 2XL. (I'm not THAT big in Europe, people…..)
Well look, whatever it is let's keep it coming. America's image abroad is not going to heal itself, even with such a great shot in the arm as our new President-Elect (Ja, wir können!), so I want to help it in any way I can. My friends, what brings you here? How can I serve you better? Comment away! In the meantime, here's the funniest thing I found on a youtube search for Kaiserslautern.

http://www.youtube.com/watch?v=yYWSlyipXfs
Ich bin ein Kaiserslauterner!
Filed under
Uncategorized
| Tags:
Deutschland
,
german
,
germany
,
Kaiserslautern
,
mystery
|
Comments (2)