November 20th, 2008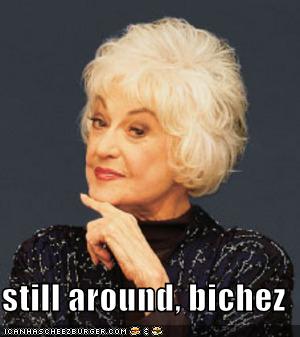 OK, story so I was watching M,SW (I should just omit that in the future….it's practically redundant to actually state it) and I thought I recognized this actress (Anita Morris). Went to her IMDb page to find out why, turns out she was the rich bitch in Ruthless People. But not only that, she was on a thing called Circus of the Stars in 1988, which was hosted by none other than Bea Arthur! This got me all excited, but unfortunately this was all I could find, and the quality's not that great.

http://www.youtube.com/watch?v=gqehSxkSlZw
But then I thought: what would happen if I type just "Bea Arthur" into youtube? Would I finally find her one-woman show? Some outtakes? Hilarious moments from Maude? (good luck with that one) No, but this did pop up, and I am completely astonished and mortified.

http://www.youtube.com/watch?v=LMLITlAA0QM
If you couldn't read the credits and the faces don't jog your memory, the other dames involved are  Sally Struthers, Charlotte Rae (Facts of Life), and Katherine Helmond (Soap, Who's the Boss). If you can't make it all the way through (the middle's a little flat when Bea's not on camera) the other guest star (whom you may recognize) at the end is WELL worth the wait. Holy shit.
Filed under
Uncategorized
| Tags:
bea arthur
,
just plain old
,
msw
,
old tv
|
Comment (1)
November 20th, 2008
As I noted in my previous post by the use of the neologism "Netflixed, dentist " I am a huge fan of the popular online DVD rental service. In fact, since now we don't have cable, my only outlet to popular video entertainments are the DVDs from Netflix, Netflix's own online video player (where I'm getting my Murder, She Wrote and Xena: Warrior Princess fixes), southparkstudios.com for, yes, South Park, and Hulu for more shows of the now: 30 Rock, The Office, The Simpsons, Fringe, Kath & Kim, The Daily Show/Colbert.
So for you inquisitive minds, here's what I currently have at home:
High School Musical 2 [thanks, mysterious enabler!]
Ugly Betty: Season 1: Disc 1
Magnum P.I.: Season 7: Disc 2 [this is for you, people, you'll see....]
and in my queue:
Star Trek: TNG: Season 2
That Touch of Mink
Murphy Brown: Season 1
Monty Python's Life of Brian
All of Me
Troy
Poirot (Volumes 6-12)
Adaptation
A Clockwork Orange
Star Trek VI
Divine Madness
Oscar
Kentucky Fried Movie
and the list goes on….something like 100 items, most of them dreck. When the fetch happens, you'll be the first to know. For example, this amazing clip from MSW that I watched this morning:

http://www.youtube.com/watch?v=JWm7XuHEZLA
p.s. bonus points for anyone who can name the source of the subject line. No googling!
Filed under
Uncategorized
| Tags:
msw
,
netflix
,
youtube
|
Comments Off